Five Ideas for Creating Decorative Concrete "Floors" Outdoors
More and more homeowners are extending their indoor spaces to the outdoors, creating backyard "living rooms" and kitchens perfect for al fresco dining and entertaining. A key element of any outdoor room is its "floor," which should be functional and weatherproof, yet as attractive and sumptuous as any indoor flooring. Concrete is the ideal material for this purpose, combining unmatched durability with the ability to be enhanced by color, texture, and pattern. Here are ideas for how to dress up your outdoor floor and make it the focal point of your backyard retreat.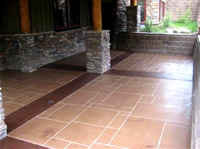 Cover It with an Overlay
If you're building an outdoor room around an existing concrete patio or deck, you can cover it with a decorative overlay in any pattern and color desired.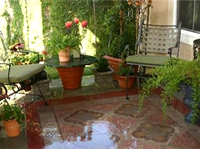 Add a Stenciled Rug
This concrete patio was covered with an outdoor "rug," with stencils used to create the intricate designs.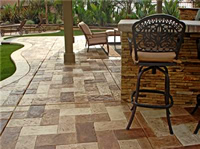 Spruce It Up with Faux Tile
You can "tile" your outdoor floor by stamping the concrete in a tile pattern and coloring the tiles to complement your outdoor décor.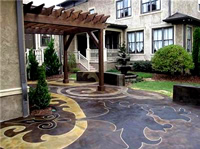 Create a Pretty Pattern
Using decorative engraving, you can create any pattern imaginable for your outdoor floor, including swirls, circles, and free-form designs. This technique works on both new and existing concrete, and the results are especially impressive when enhanced by staining.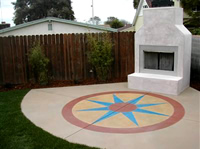 Apply a Decorative Medallion
Placing a medallion in the center of your outdoor floor is a simple way to add pizzazz. The medallion pattern can be created with stencils, engraving, or sawcuts, depending on the look you're after.
More Ideas for Enhancing an Outdoor Room
The concrete floor in your outdoor room is just the beginning. Once all the hardscaping is in place, you'll need to add furniture, accent the landscaping, and finish off your space with accessories, such as water features and concrete statuary. To help in your planning, download this handy checklist (PDF format) for creating a fabulous backyard living space.