Free-Form Patio Designs
A concrete patio can come in just about any shape. Squares and rectangles are not your only option. Free-form patios allow you to be more creative with your patio shape. Most free-form patios incorporate gently curves that flow nicely. Check out the examples of free-form patios below to get ideas.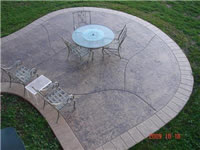 J&H Concrete in Uniontown, OH
Small & Natural
The free-form shape of this patio was emphasized by using curvilinear control joints. The client had requested a very natural look for their patio and ended up with what looks like giant pieces of flagstone. The concrete was integrally colored and stamped with a seamless pattern called old granite. The patio is roughly 360 square feet, providing enough room to walk around the patio furniture.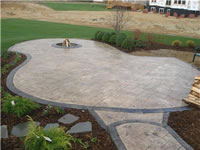 John's Cement in Milford, MI
Free-Form Border
These homeowners knew they didn't want a standard square patio. This free-form design, with a fire pit at one end, suited their needs and tastes much better. The dark colored border sets off the patio and highlights its unique shape. The 600 square foot patio was colored and stamped with an ashlar slate pattern.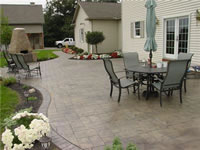 Cornerstone Concrete Designs in Orrville, OH
Soft Edges
This free-form patio offers a gentle transition into the backyard. Often, you can take advantage of spaces around a free-form patio by planting trees, shrubs and flowers. This patio has a sandstone color and an ashlar slate pattern. A stamped brick border gives it a finished look.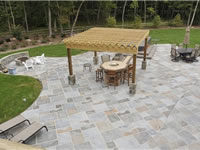 Salzano Custom Concrete in Centreville, VA
Accommodating Outdoor Living
Think about extending portions of your new patio just the right amount to accommodate a fire pit or dining table. Notice how this design is centered on the covered outdoor kitchen, but the patio gentles flows outward in three spots for a dining table, hot tub and fire ring. This style of patio works best in a large yard where you want to designate distinct areas.
Southern Textures in Lexington, SC
Open & Casual
The free-form shape of this multi-level patio is defined by low retaining walls and planting beds. The soft lines make the patio space feel open and casual. Additionally, the organic shape blends well with the gently rolling hills surrounding the patio. The concrete has been stained with multiple colors to create a mottled appearance.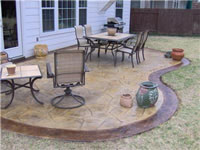 Custom Concrete Solutions in Schertz, TX
Creating Balance
If your house has a very square footprint, a free-form patio can provide a good balance. Just two simple curves add so much character to this small back patio. Be sure to think about the patio furniture you want to use and how it will fit. Here, a bistro set fits nicely into one of the rounded portions of the patio, while a dining table and chairs occupy the center.