Los Angeles Concrete Patios
A collection of decorative concrete patios at L.A. residences
Find a Los Angeles Concrete Patio Contractor:
One of the best things about living in Los Angeles is the abundant sunshine and warm weather. Wouldn't it be great to have a decorative concrete patio on which you could enjoy meals al fresco with your family? Los Angeles is the ideal city for leading an outdoor lifestyle and a beautiful new concrete patio will help you do just that. Check out the examples below to see concrete patios in the Los Angeles area.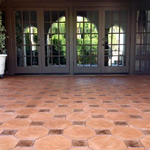 Spanish-Inspired Concrete Patio
This patio was installed by Stamp My Concrete in West Hills, CA. It was stamped and colored to look like authentic clay tiles. Concrete was selected for this patio rather than real tiles because it is more durable, easier to maintain and will last longer. Stamp or stencil patterns such as Spanish tile, Ashlar slate, Arizona flagstone and European fan go particularly well with Mediterranean-style homes which are very popular in the L.A. area.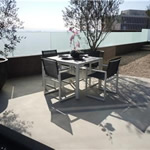 Modern Concrete Patios
Installed by Ron Odell's Custom Concrete in Woodland Hills, CA, this streamlined patio has a very modern style. The concrete was left gray and troweled to have a very smooth finish. With modern design on the rise, this type of concrete patio is becoming popular in newer areas of Los Angeles or as part of remodel projects.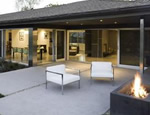 Another example of a modern patio, this one, designed by Modal Design in Los Angeles, CA, has a graphic look. Rectangular slabs of concrete, separated by bands of gravel create a large sitting area where the fire pit can be enjoyed. Not only does this type of concrete patio look interesting, but it is less likely to crack and allows water to reenter the soil below. Many Los Angeles homeowners are opting for patios made up of groupings of small slabs like this one.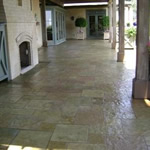 Concrete Patios that Look Like Stone or Brick
Natural stone patios are appealing to many for their beauty. However, they have many drawbakcs including high cost, extensive maintenance and more. C&N Decorative Concrete Creations in Newbury Park, CA helped the owners of this home get the same look as stone but at a lower cost and with less maintenance. This concrete patio was stamped and colored to look like random cut stone. The light color is good for Los Angeles because it will reflect sunlight and stay cool.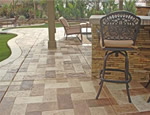 This concrete patio, installed by Pac West Coatings in Carson, CA, is similar to the one above. After the concrete was poured, sawcuts were made to create borders and a stamp was used to add a pattern that looks like oversized bricks or pavers. Then multiple colors were hand applied to create variations across the surface of the patio. If you plan to use natural stone in conjunction with your concrete patio it is a good idea to match the colors.