Exposed Aggregate
What Is Exposed Aggregate?
Exposing the aggregate in concrete is a unique way to accentuate the natural beauty of concrete. Either natural or manufactured aggregate can be revealed in concrete. More decorative aggregate can be added to the concrete by seeding it onto the surface or mixing it into the concrete.
Exposing the aggregate in new concrete is fairly simple. The traditional method is to wash away a thin layer of surface mortar covering the aggregate by spraying with water and scrubbing with a broom until it is exposed to the desired depth.
Because of its durability and skid resistance, an exposed aggregate finish is ideal for most flatwork including patios. There are various ways to create special effects with the aggregate. One idea is to use contrasting aggregates side-by-side or combine areas of smooth concrete and exposed-aggregate finishes. You can also place exposed aggregate in bands separated by joints, or wood divider strips. Stains can also be used to add color or highlight areas of exposed aggregate.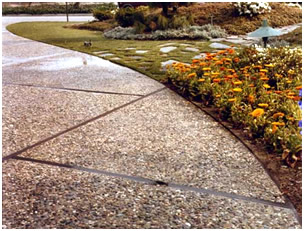 Here are the main factors to consider when selecting aggregate:
Color
Hardness
Size and gradation
Shape
Method of exposure
Durability
Cost and availability (generally, locally produced aggregate is more economical)
To learn more about exposed aggregate including how to choose decorative aggregate, sealing and protecting aggregate finishes, and more, visit ConcreteNetwork.com.